Ecuador came to the awards ceremony with 18 nominations, and walked away with 15 awards.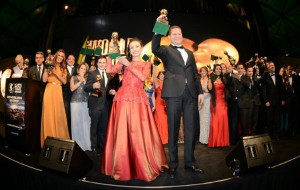 The awards ceremony, held at Quito's Cultural Centre, known also as the Palace of Cristal, made Ecuador's capital the focus of world attention. It was featured in newspapers, magazines, radio and television shows, web portals and social media networks around the world.
Apart from winning the awards for 'Green Destiny Leader South America' and 'South America's Leading Destination',  for two years running, other big awards went to Ecuador's Ministry of Tourism for 'Best Tourist Office 2014', and to the Train Cruise officials for 'Best Luxury Train'.
Sandra Naranjo, head of the Ministry of State, said the number of tourists to Ecuador had grown 14 percent from January to July 2014. A statement on the website of the Ministry of Tourism quoted her as saying that tourism in Ecuador had grown to "three times the world average". Naranjo said that with more than 25 global awards received in 2013, Ecuador was "at its best". "It is also an attractive place for new investment which since 2005 has doubled," she added.
According to the World Travel and Tourism Council (a specialized economic body that registers data on the economic contribution of tourism), Ecuador has created more than 60 000 jobs since 2008.
Naranjo said some $800 million had so far been invested in the tourism sector this year alone, thanks to a policy based on five pillars: products and destinations, safety, quality, connectivity, and advocacy.