Ecuador's capital, Quito, was named "South America's Leading Destination" for the second year in a row at the 21st Regional World Travel Awards, considered the Oscars of the tourism industry.
"We are the leading destination in South America, an honor that opens the door for tourists to come and enjoy its marvels," Quito Mayor Mauricio Rodas said during the awards ceremony at the Centro Culturual Itchimbia in Quito. He hailed Quito for both its beautiful architecture and friendly people.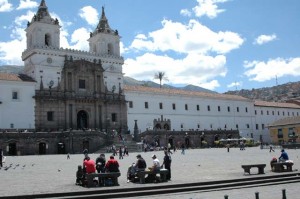 World Travel Awards president Graham Cooke had only praise for Quito. "It has been an honor to host our annual South & Central America Gala Ceremony here in Quito, Ecuador. From the moment we arrived, we have been made to feel at home by the members of Quito Tourism, and their professionalism, endeavor and initiative, are the envy of the world."
Ecuador won further awards in the 'Leading Green Destination' and 'Leading Tourist Board' categories. Peru took away the awards for best South American destination in the heritage, cultural and culinary categories, while Medellin, the capital of the northwestern Colombian province of Antioquia, won the award for leading South American 'Meetings  and Conference Destination'.
Cooke said, "We have seen some regional leaders recognized here tonight and I offer my heartfelt congratulations to them all. World Travel Awards voters have cast their ballots and selected the best in South American tourism. I look forward to greeting all of our winners in Morocco for the Grand Finale in November."
More than 300 tourism industry representatives from around the Americas attended the gala.