Tandayapa Valley.
Less than two hours from Quito, Tandayapa Valley is a beautiful slice of the Ecuadorian amazon rainforest. It is most well-known for the exceptional birding opportunities. In fact, after a short time you´ll appreciate why, this reserve has held the highest 24-hour bird count in the Audubon Christmas bird, three years in a row.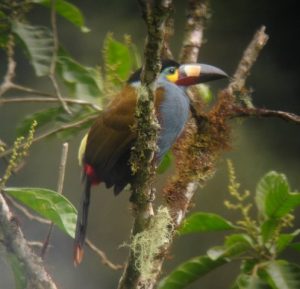 In the Andes the cloud forests appear at altitudes between 900 and 2,500 meters. The perfect climate here allows flowers to bloom throughout the year. Epiphytic orchids are found everywhere with 80 species found so far. There are also a host of bromeliads and tree ferns with countless air plants seen nearby. Air plants are fascinating, with their ability to grow on top of other plants, however they are not parasitic. The roots of the air plants act as anchors and the leaves absorb water and nutrients.
There is a huge network of trails throughout the reserve and so far explorers have discovered 330 species of bird. Scores of toucans, wrens and warblers are seen each day. Also be sure to keep an eye out for the famous Andean Cock-of-the Rock. Hummingbird feeders have been used to entice 31 different species to the area. Sometimes there can be as many as twenty species seen in a single day. There is certainly enough here to keep and nature lover enticed for days.
Considering the adventure trails and hidden waterfalls you have the recipe for a fantastic experience. Let us not forget the many butterflies, squirrels, insects, frogs and even bespectacled bears also found in the region. You will see that Ecuador´s reputation for its natural treasures is well deserved and why this destination in particular is favored by nature lovers.
Maquipucuna Reserve.
Visiting the Maquipucuna Reserve is surprisingly convenient as it is just 1 hour away from Quito. The park is only 50 miles north-west making it the closest rainforest to the city. The reserve is the entrance into the Chocó Andean Corridor in the top 5 most biodiverse regions in the country.
The reserve has over 14,000 acres of cloud forest with altitudes ranging from 3,000 to 8,800 feet.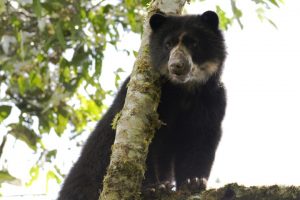 The range in altitude results in a greater biodiversity. To put things into perspective, Maquipucuna supports more than 376 species of birds (and has been labelled an important bird area), 250 species of butterflies, 45 species of mammals and over 1,800 species of plants.
Due to the presence of a tiny avocado type plant that grow in this region it's the only place close to Quito where spectacled bear are often spotted for months in the year. With over 32km of trails available to explore, make sure you plan on staying for at least a few days. It would take more than one lifetime to see everything this protected region has to offer.
Alongside the fauna and flora there is historic significance to this reserve. Archeological sites have discovered ruins that point to an impressive pre-Incan people known as Yumbos. There are still many archaeological points of interest in the region including burial sites, pottery and ancient pathways.
As should be the case (but oftentimes is not) the main focus of the foundation here is sustainable ecotourism. One of the main attractions in visiting this particular reserve is the sincere efforts and huge steps forward the team has made in creating a tourist environment that preserves the unique reserve. Not only within this reserve but the team has reached out to help initiate ecotourism projects for the nearby communities Yunguilla and Santa Lucía.
Mashpi Reserve.
A 4 hour drive from Quito is the Mashpi reserve, an astounding 2,891 acres of privately owned forest. The reserve forms part of the Chocó-Darién biogeographic region, one of the most biodiverse places on the planet. The reserve is perfectly situated between two differing habitats the lowland floodplain forests and the foothill forests. This results in the opportunity to view a wider array of species. Alongside this are an abundance of plant species, from bromeliads to a number of orchid species, some of which have only just been discovered.
There are many rare and exotic birds in the reserve so far over 400 different species have been recorded with more being discovered each year. Hummingbirds are many peoples favorite bird to see up close. Within the reserve there are 32 different species and while there you´ll be able to get close enough to hear the incredibly fast beat of their wings. To give you a taste of some of the other species of birds available there is the Indigo Flowerpiercer (Diglossopis glauca), Banded Ground-Cuckoo (Neomorphus radiolosus) and Black-tipped Cotinga (Carpodectes hopkei).
The full immersion of hiking through the forest is a thrilling experience, animals in every place you can imagine and among it all the great cacophony of sound they create. Where to begin with the animals to see here?. I needn´t write an exhaustive list, some of my favorites include; black pumas, tarantulas with color changing legs and cuckoos that can throw their voice. Suffice to say there is a multitude of animals here seen nowhere else in the world.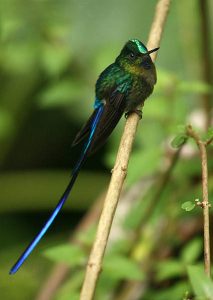 There are several activities available within the reserve. Trails with varying difficulties, nature walks and an observation tower. There is also a novelty experience SkyBike (cycling on a cable through the canopy). And of course a hummingbird sanctuary. The life center is accessible and was created for further scientific understanding and learning.
Mindo is located in the middle to visit all of this places. Why not to spend a day doing a tour in these reserves and then rest in the afternoon in your private hot tub and terrace?. Book your accommodation and tours in Las Terrazas de Dana Lodge.