Our lodge is only 1,2 km. (0,75 miles), from Mindo, direction to Road to the CableCar and Sanctuary of Waterfalls.
You can get to Mindo by private taxi, bus or your own car.
We recommend to hire a private taxi with us since we work with trusted drivers. Also available stop at "Mitad del Mundo" and "Los Armadillos hummingbirds garden", which is at the middle of the trip. Contact us if you need more information.
If you decide to come by bus:
From Quito, 2 hours is required. You have to go to Terminal Terrestre Norte, called La Ofelia and take a bus from Cooperativa Flor del Valle. Please check timetable and be there at least 15-20 minutes before departure to buy the ticket.
If you decide to come with your own car:
You have to take the road to "Mitad del Mundo" and continue it to "San Miguel de Los Bancos". In the way you will find signs to turn left towards the town of Mindo.
To come to the lodge is very easy. Once you are in Mindo take the road to Cascada Nambillo. Everybody in the town knows it. 12 minutes from the town walking you will see a crossroad with two ways. To the left it goes to Mariposario. You have to take the right road over the cement bridge. Walk 100 meters more and you will see a road to the left. Continue another 100 meters in this road and you will see Las Terrazas de Dana.
If you have a smarthphone, we are in Google Maps!.
Also in Waze (www.waze.com), and OpenStreetMap (www.openstreetmap.org)
GoPro video from Mindo to the lodge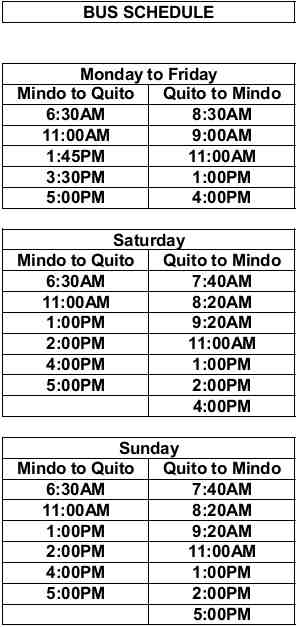 Map with our location in Mindo