Located in Mindo Ecuador, welcome to the award-winning Las Terrazas De Dana Lodge
Welcome! My name is David Brito, and I am the owner of Las Terrazas De Dana Lodge in Mindo Ecuador. I am from Spain, but fell in love with beautiful Ecuador and had to move here! Come stay in peaceful Mindo Ecuador to relax and enjoy the cloud forest!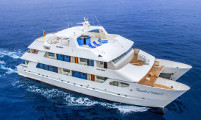 BOOK your Galapagos Cruise with our travel agency incorporated in United States "Dana Tours LLC" and get free nights in the lodge!




All bungalows include
Private terrace.
Fast Internet Wifi in the bungalows.
Enjoy breakfast in your private terrace
Room service
Hot tub for 2 people with 4 jets
Queen bed
Satellite DirecTV with Sony 32″ LCD TV
Laundry service
Enjoy visits from hummingbirds
Beautiful pathways through tropical gardens
Relax in balcony chairs
Book Directly with Us and Enjoy
*Upgrades to Superior Bungalow
*Flexible cancellation policy
*Dinner specials
*Flexible check in / check out times
Tour the Beautiful Gardens
Mindo Ecuador
Mindo Ecuador is a region about 80 miles northeast of Quito. The area has about 2,500 inhabitants, who work in agriculture and tourism. The zone temperature is between 15 ° C and 24° C throughout the year. Rain is common, but during the months of June and November the climate becomes drier.
Situated in the Andean foothills in Ecuador, Mindo is a small beautiful town offering amazing natural views, scenic beauty and a lot of other attractions for tourists who just want to unwind and let go of the pressures and demands in their lives for the time being.
Mindo Ecuador is located in a valley, of which 19,200 hectares are protected in what is called the Bosque Protector Mindo Nambillo ecosystem which is home to about 500 species of birds and 90 species of butterflies. Also in the park reserve of Mindo Ecuador, experts have identified more than 170 species of orchids and bromeliads abound, heliconias, ferns, vines, mosses and lichens.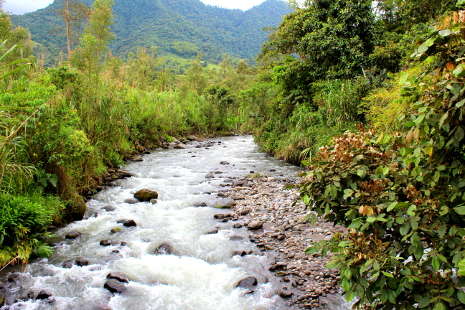 Mindo Ecuador is surrounded by the beautiful Mindo Cloud Forest Ecuador, a deep forest which happens to be the home of hundreds of exotic bird species, out of those many of them happen to be under threats of extinction. Mindo is particularly known for its natural beauty that attracts visitors who like the wildlife and unique nature.
Reviews
Matthew M (US) – Tripadvisor review
Nestled on the northern hillside of the Rio Mindo, Las Terrazas overlooks the lush valley giving way to the mountains on the other side.
Impeccably designed and built in a modern style that fits perfectly with the natural surroundings (the north and eastern side of the property is enclosed in a lush bamboo forest), the real treat is the excellent quality of service provided. Nothing is spared in the way of particular attention given to your every want from food to extra towels.
Perfectly situated less than 5 minutes from the Mindo strip, Las Terrazas is a great place for couples or families to relax with a beverage on the enormous patios overlooking the valley. You'll be greeted by dozens of hummingbirds and butterflies while you relax.
The Mindo Canopy Adventure and the River Rafting (tubing experience by XTreme) are less than 4 minutes away in the car down the path.
Erik (NO) – Tripadvisor review
I booked a stay at Las Terrazas de Dana for the opportunity to relax and also see what activities Mindo has to offer, and here you definitely get both sorts. The place is breathtakingly beautiful with very nice and clean bungalows with lots of space. Outside there is plenty hummingbirds and even the occasional toucan to be seen while enjoying the amazing views. David, the owner, was very attentive and friendly throughout my stay, he helped me arrange activities and drove me around in his 4×4. We even went zip-lining together which was a lot of fun.
Unfortunately for me I got sick on the way over from Quito after eating some bad food, but David helped me out with painkillers and various meals that are good for your stomach. Las Terrazas turned out to be a great place to recover from illness, and thanks to him I got better within a few days. This place is top tier and probably the nicest place I've stayed during my trip to Ecuador. Highly recommended!