Welcome to the award-winning Las Terrazas De Dana Lodge
Welcome! My name is David, and I am the owner of Las Terrazas De Dana. I am from Spain, but fell in love with beautiful Ecuador and had to move here! Come stay in peaceful Mindo to relax and enjoy the cloud forest!



All bungalows include
Private terrace.
Fast Internet Wifi
Enjoy breakfast in your private terrace
Room service
Hot tub for 2 people with 4 jets
Queen bed
Enjoy visits from hummingbirds
Beautiful pathways through tropical gardens
Relax in balcony chairs
Book Directly with Us and
*Upgrade to Superior Bungalow
*Flexible cancellation policy
*Dinner specials
*Flexible check in / check out times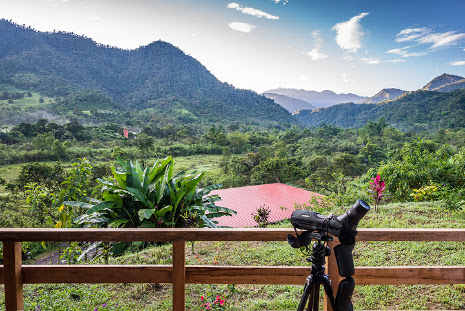 Mindo is a region about 80 miles northeast of Quito. The area has about 2,500 inhabitants, who work in agriculture and tourism. The zone temperature is between 15 ° C and 24° C throughout the year. Rain is common, but during the months of June and November the climate becomes drier.
Situated in the Andean foothills in Ecuador, Mindo is a small beautiful town offering amazing natural views, scenic beauty and a lot of other attractions for tourists who just want to unwind and let go of the pressures and demands in their lives for the time being.
Mindo is surrounded by the beautiful Mindo Cloud Forest Ecuador, a deep forest which happens to be the home of hundreds of exotic bird species, out of those many of them happen to be under threats of extinction.
Mindo is particularly known for its natural beauty that attracts visitors who like the wildlife and unique nature.
It is located in a valley, of which 19,200 hectares are protected in what is called the Bosque Protector Mindo Nambillo ecosystem which is home to about 500 species of birds and 90 species of butterflies. Also in the park reserve of Mindo, experts have identified more than 170 species of orchids and bromeliads abound, heliconias, ferns, vines, mosses and lichens.
Las Terrazas de Dana reviews!
Andrea (US) – Booking.com review
"Everything on site is newly constructed. Spacious room, comfy bed, big TV, large bathroom, WiFi, delicious food, and friendly hospitality. Beautiful view of Mindo Valley. Owner/operator David Brito speaks fluent English, he was very helpful in many ways throughout our stay. Great place to come home to after a long day hiking. Jetted spa is a lifesaver!"
Paula (BR) – Tripadvisor review
What a wonderful place !!! Not to mention the view is spectacular !!! Breakfast great morning! David is very attentive … he recommended several places to visit !!! Thank you for everything, sure we will be back! Highly recommended !!!
Bill (US) – Tripadvisor review
If you are seeking 5-star service, awesome food, immaculate accommodations, a knowledgeable tour guide, peace and quite (only the sounds of birds chirping), and amazing views of the cloud forest – then look no further ! There is no place better to stay in Mindo, Ecuador than at Las Terrazas de Dana. My wife and I spent nine wonderful days here, and celebrated our 25'th wedding anniversary. David & Veronica decorated our room and the hot tub with rose petals, a bottle of red wine, and lit candles on our anniversary night. They served us breakfast on our private veranda in the morning, so we could look at the mountains and enjoy the hummingbirds at the feeder beside our deck. They found out that my wife loves chocolate – and made her a "chocolate lava cake" dessert for our anniversary dinner and hot chocolate for breakfast. David always seemed to magically "need" to ride into town for something, at the exact times when we were planning to take the brief 15-min hike in to town or to an excursion on our own – and thus he would drive us or pick us up, instead of our walking (we finally had to insist that we walk, so we could exercise and work off all the great food). David even offered and did some laundry for us – so that I could donate my hiking shirts to a local missionary when we left. We did not get sick the entire time that we were in Mindo, except for the day that we opted to eat dinner at a restaurant in town – rather than here, where we had eaten most of our meals (lesson learned – why go into town and take the risk when the food here is great and safe?). Most of the excursions are all very close to here as well – including las cascades (waterfalls you can hike to after an amazing cable car ride), ziplines over the canopy, butterfly / bird sanctuaries, tubing, etc.. It is also really nice being outside of Mindo's downtown area – as the seclusion and privacy is much nicer than the sounds of cars, people, etc that come with being in town. There are three dogs that live on the property (who are quite friendly) – to make sure that any visitors are announced upon arrival, and to keep any lost rainforest creatures off of the property (it provides some added safety & protection). My wife and I both felt that we were treated like family – and we certainly consider David & Veronica to be our new friends ! We will most certainly stay here when we return to Mindo, Ecuador again – as it will be like "coming home" and visiting "our new family".. (NOTE : a true testament to how great these folks are – My wife left her wedding band sitting on the nightstand in the cabana, … Read More
Joaquín (ES) – Tripadvisor review
A wonderful place located in a paradise, facilities and 5 star service. I've been enjoying for a week of pure nature that surrounds him, and all this sums tranquility, friendliness and service. Excellent work David. Congratulations. I will come back
Lukas (US) – Tripadvisor review
David, the hotel manager, is very experienced, and it shows. The service is perfect, the ricissima food, especially breakfast is served on the terrace of the room. The location is very good too, near the village but very quiet. Highly recommended!
Everything about the stay was impeccable. The private bungalows are exquisite in their simplicity, and perfect in every way. They allow the stunning scenery to take center stage, and with sweeping floor to ceiling windows allow it to be experienced all day or night. The staff was incredible – very attentive or with a sincerity and genuine interest in my experience which is rare nowawadays. One of my best boutique hotel experiences ever!