Mindo is a small town situated in the spectacular Andean foothills of the Ecuador. The exotic mindo cloud forest is home to many endangered wildlife species and birds with ample attractions for tourists. The tiny town of Mindo is a popular destination for backpackers. The place is an epicenter of biodiversity that is home to birds and orchids. The Andean scenery along with cool climatic temperature is a perfect vacation getaway for travelers. Orchids are widely found in Ecuador with about 4,000 species. They consist of vibrant bromeliads with a variety of rare birds such as cocks-of-the-rock, toucans, parrots, and hummingbirds.
Amidst scores of orchids and private reserves the traveler can traverse the flora laden forest which happens to be the second leading exporter of cut flowers. Even other diverse floral consist of ancient ceders, philodendrons, high tree ferns, giant hibiscus, and more. The tropical ecosystem is so rich in biodiverse flora and fauna. Mainly because of the moisture, sunlight, cloud cover and mild temperature. The Mindo Cloud Forest is moisture laden due to the wetness or rain that is such a prominent weather condition. Mindo Cloud Forest is famous for the perpetual rainfall. The moss covered trees in the botanical caldron make for an exotic picture that allures nature lovers and tourist alike.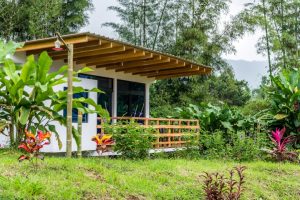 Mindo Cloud Forest is so popular for the diverse bird species that contest are held annually to spot the highest number of bird species. The tourism in the region is a round-trip to Quito with bus schedules for running around. Take the metro bus or minute taxi to travel to the north of Quito. Tourists can also book their bus to Mindo and enjoy a myriad of exclusive scenic views. If you plan for a day trip, then book for return tickets soon after arrival to Mindo. When planning to stay for the day, then you can put up at exclusive mindo hotels that make your tour much more memorable. The Quito weekend trip is an absolutely enjoyable travel. You can view the amazing 450 bird species, variety of mammals, butterflies, amphibians, and reptiles making Mindo an eco-tourism paradise.
The butterfly farm is a traveler's delight with hundreds of varieties of these exotic butterflies making a pretty sight. Catch the horde of orquideas or orchids that are of all possible colors with an enchanting smell of the flora. Relax amidst the singing hummingbirds resting in the patio area. Feed the birds in the mindo cloud forest and you can come up close to the birds. That will absolutely enchant you. Bird watching tours are regularly organized in the forest so you can enjoy viewing these birds.
In Mindo Cloud Forest other tour attractions are chocolate making tour, drinking artisan beer, and hiking at the waterfalls. Camping facilities are also available. Speak to your tour guide or seek for assistance from the hotel if you plan to go camping in the forest. Mindo Cloud Forest is the most visited natural cloud forest in the region with loads of tourist attractions. Attractions like orchids, tubing, bird tours, butterfly gardens, waterfalls, and cable cars. Mindo Cloud Forest provides many activities for travelers among the lush green landscapes, waterfalls and fresh water rivers. Much more that can be explored on foot.